20th Century Fox INVITES YOU



20th Century Fox INVITES YOU to join Troy Duffy and Rocco for a FREE screening of Boondock Saints 1 @ The Arclight Theatre in Los Angeles June 9th... Click here








Boondock Saints: Truth & Justice Edition
The 10th Anniversary Blu-ray is coming soon...MORE DETAILS
Special Appearance at SXSW Film Festival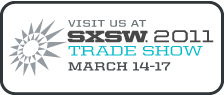 Troy Duffy and Rocco attended the SXSW Film Festival March 14-17th at the Austin Convention Center. We partnered with YOOSTAR2! The first movie karaoke game that lets you star in all your favorite Hollywood Blockbuster movies and share with friends!
Guests at our booth starred in Boondock Saints scenes and were even directed by Troy Duffy and coached by Rocco! http://sxsw.com/music/tradeshow
Check out the coverage of Boondock Saints at SXSW!
OK Magazine - Troy Duffy and Adam Duritz in the Spotted Section!...read more
Troy Duffy is exploring concepts which would allow fans of the film to play out their favorite scenes in the movie...read more
21 Questions with Troy Duffy on thenervousbreakdown.com...read interview
SXSW 2011: Yoostar2 Puts Fans Inside Two Scenes of The Boondock Saints...read more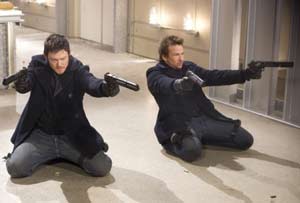 The Boondock Saints Director Considering Boondock Videogame...read more
Video Interview from Redcarpetcrash.com...watch video

The Boondock Saints at Super Megafest in Boston on November...

The Boondock Saints will be at the Super Megafest event in Boston on November 20th and 21st. Sean Patrick Flanery (Connor), Norman Reedus (Murphy), David Della Rocco and writer/director Troy Duffy (Sat. only) will all be attending New England's largest multimedia fanfest!
Question & Answer Sessions are to be announced… but on Saturday evening there is a Boondock Saints VIP Party at 5:30 PM – 7:00 PM
For more info and to get tickets for the Super Megafest… go here



Clifton Collins Jr. is on NBC's THE EVENT

Clifton Collins Jr. (Romeo in Boondock Saints 2) is on NBC's THE EVENT television show as Thomas on Monday nights at 9pm C... MORE INFO | www.cliftoncollinsjr.com



Norman Reedus will be in THE WALKING DEAD

Norman Reedus (Murphy MacManus from Boondock Saints) will be in the AMC / Frank Darabont series THE WALKING DEAD, premiering Oct. 31st 10PM | 9C ... MORE INFO | bigbaldhead.com | normanreedusonline.com



SAW 3D Starring Sean Patrick Flanery

Sean Patrick Flanery (Connor MacManus from Boondock Saints) will be starring in the new SAW 3D movie that hits theaters this weekend! ... MORE INFO | www.seanflanery.com



The Boondock Saints Mobile Game Released On iPhone, iPad & iPhone Oct. 28

Bringing the same explosive action and attitude that fueled the iconic, cult-classic movie, players will unleash the deadly skills of the brothers MacManus in this unique top-down shooter game, experiencing an exclusive Boondock Saints story created just for this game. Play as Connor or Murphy with special appearances from familiar faces from the movies while on a righteous mission of revenge. A wide range of weapons are at your disposal, including Molotov cocktails and stun grenades to take out determined foes. As you progress through the game, tattoos are placed on the brothers to mark completed missions. On the walls of the tattoo parlor are links to Facebook, Twitter and Open Feint where players can track achievements and communicate with friends. In addition, scenes from the films will be available on the iPad... MORE INFO



The Boondock Saints at the Weekend Of Horrors in L.A. on Oct. 15-17

The Boondock Saints actors Sean Patrick Flanery (Connor MacManus), Norman Reedus (Murphy MacManus) and David Della Rocco plan to attend the Creation Entertainment's Weekend Of Horrors Event in Los Angeles on October 15-17, 2010. ... http://www.creationent.com/cal/woh.htm



The Dirges News

THE DIRGES (Band of Boondock Saints 2) has received acceptance to The Canadian Music Fest in 2011... The Dirges are also going on tour... READ MORE



The Official Boondock Saints Soundboard

The Boondock Saints Official Soundboard (iTunes App w/ audio quotes from the movie) now available in iTunes App Store... MORE INFO



The Boondock Saints Will Travel To The Persian Gulf For USO Tour

The Boondock Saints cast members; Sean Patrick Flanery, Norman Reedus, Brian Mahoney along with writer/director Troy Duffy and producer Chris Brinker, will... READ MORE



Bob Marley News

Bob Marley (Detective Greenly from Boondock Saints 1 &2) broke the Guinness World Record today! & going! ... READ MORE



The Boondock Saints at Movie-Days in Germany on Sept. 4-5

Sean Patrick Flanery and Norman Reedus will be in Germany on Saturday Sept. 4, 2010 10-6 P.M. & Sunday September 5, 11-5 P.M. For details, go to... http://www.movie-days.com/



Exclusive Preview : Boondock Saints : The Head Of the Snake" ...

12-Gauge Comics proudly announces the sellout of Troy Duffy's BOONDOCK SAINTS: THE SECRET HISTORY OF IL DUCE #2. Fans of the film series continue to seek out the new title, which has resulted in a steady flow of reorders from comic retailers across North America. 12-Gauge publisher Keven Gardner said, "Clearly, the Boondock fans can't get enough of the McManus family and their adventures. We anticipated this... READ MORE



The Boondock Saints at Monster Mania in Maryland on Sept. 17-19

Sean Patrick Flanery, Norman Reedus & David Della Rocco pllan on attending Monster Mania in Maryland. See more details at: http://www.monstermania.net/MMC16_Guests.html



Comic Review: Boondock Saints: In Nomine Patris ...

The second in the new line of Boondock Saints comics, In Nomine Patris, is the beginning of the secret history of Il Duce. This to me is a great way to kick off a serious stint in the comic line for the saints. It introduces all the characters and a lot about the history of their "business" without prior knowledge needed. This series does a great job in treating it like every issue can be someone's first issue... READ MORE